DeepBlue Technology Launches Silicon Brain SaaS Platform at China Unicorn Enterprise Conference 2023
---
At the 2023 China (Suzhou) Unicorn Enterprise Conference held on June 20th, Chen Haibo, the founder and chairman of DeepBlue Technology, announced during his keynote speech the launch of the "DeepBlue Silicon Brain SaaS Platform." The platform aims to provide individuals and enterprises with more convenient and comprehensive applications of large language models for intelligent purposes.
AI-driven large models have brought new development opportunities to various industries. However, enterprises face practical challenges such as high training costs, data security, and insufficient domain expertise when it comes to accessing, training, deploying, and applying large language models. In comparison to general-purpose models, enterprises require domain-specific models that can be trained and fine-tuned with their own data to create more practical intelligent services.
The "Silicon Brain SaaS Platform," developed by DeepBlue Technology's R&D center in Wuhan, is built on the DeepBlue Silicon-based Knowledge Large Model. It customizes training on high-dimensional data such as domain knowledge and personalized character settings, and offers features such as zero-coding, one-click generation, and low cost. This allows for comprehensive customization from appearance to knowledge system, meeting the demands of enterprises in multiple scenarios such as intelligent customer service, digital employees, and industry experts. The platform provides a quick method for enterprises to create enterprise-level "super intelligent assistants," which can be transformed into SaaS services.
Specifically, the "Silicon Brain SaaS Platform" by DeepBlue Technology offers the following functions and features:
01
Simple and quick, one-click generation of virtual avatars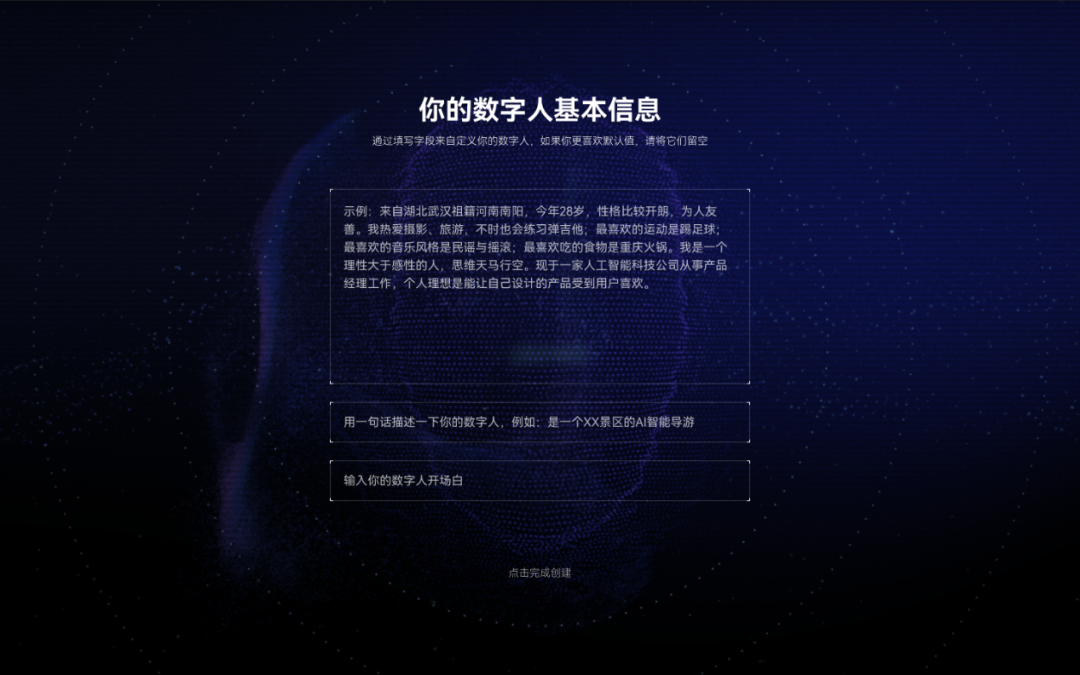 Enterprises or individuals can register on the "Silicon Brain SaaS Platform" to utilize functions such as creating virtual avatars. By simply describing the desired character, enterprises can quickly generate a personalized virtual avatar. This convenient creation method gives enterprises more autonomy to create a personalized image that aligns with their brand, and later provide external services with the virtual persona after the knowledge system is built.
02
Rapid creation of enterprise-specific knowledge
The "Silicon Brain SaaS Platform" provides comprehensive customization from appearance to knowledge system, supporting the construction of an enterprise's knowledge system. By importing relevant documents and data such as product manuals, operating instructions, and frequently asked questions into the platform, the large model automatically generates knowledge graphs tailored to products, business, and more. This feature lowers the barrier for enterprises to utilize large language models.
03
Zero-coding, flexible integration into enterprise systems through various methods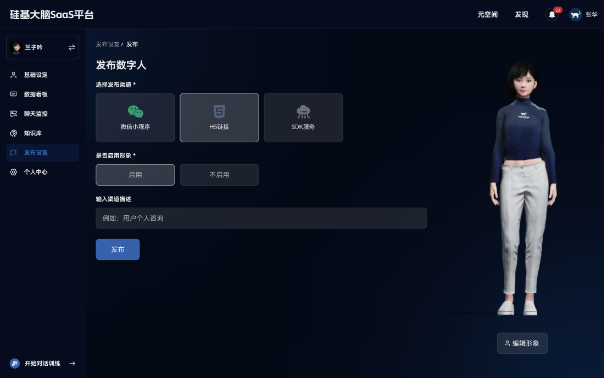 The "Silicon Brain SaaS Platform" can be integrated into enterprise service systems through configuration and publishing, enabling zero-coding implementation for H5, mini-programs, APIs, and other methods. Enterprises can choose the most suitable integration method according to their specific needs and scenarios. The flexibility of APIs allows integration with existing systems for personalized customization. Additionally, mini-programs and H5 forms eliminate the need for users to download separate applications; they can integrate intelligent services into websites, enterprise official accounts, and other scenarios through QR codes or links.
04
Cost-effective service supporting applications in multiple industries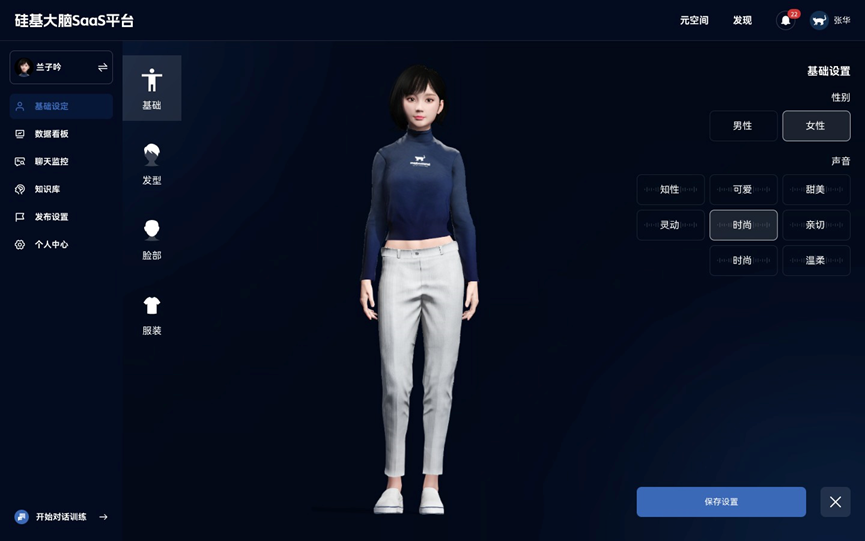 The "Silicon Brain SaaS Platform" adopts a SaaS billing method, offering on-demand usage and customized services. Enterprises can utilize the SaaS platform to quickly create virtual entities such as intelligent customer service, digital ambassadors, intelligent guides, digital secretaries, interpreters, virtual front desks, and personal assistants. These virtual entities can provide continuous and stable working capabilities, improving work efficiency. By continuously improving the knowledge system, virtual industry experts can be developed to provide professional knowledge and solutions, helping enterprises better address industry challenges.