DeepBlue Technology Achieves Great Results at International Top-level Competition
---
The top international conference in the fields of computational linguistics and natural language processing, EMNLP 2022, was held in Abu Dhabi, UAE. The conference also announced the final results of its task challenges. DeepBlue Technology won a total of six awards, including one championship, three second places, and two third places.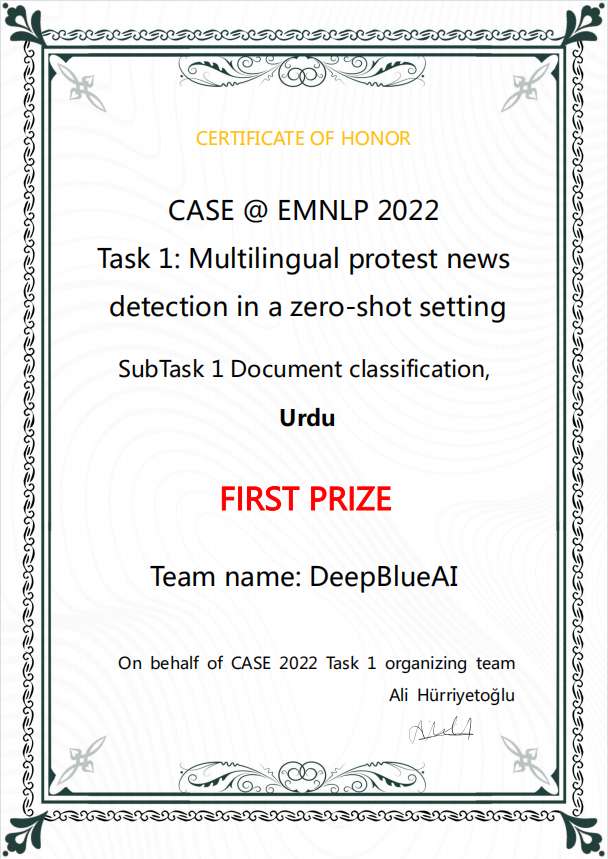 DeepBlue Technology participated in Task One, "Multilingual Protest News Detection" challenge. This task mainly tested "the classification and analysis of whether a document contains a specified type of event." DeepBlue Technology participated in the competition for all seven languages, competing against many domestic and foreign teams. They won the championship in the Urdu competition and also obtained three second places (English, Spanish, and Turkish) and two third places (Chinese and Hindi).
EMNLP stands for Conference on Empirical Methods in Natural Language Processing, and is one of the highest-level academic conferences in the international natural language processing field. It is organized by the SIGDAT group under the International Linguistics Society (ACL), held annually, and mainly focuses on the application of statistical machine learning methods in the field of natural language processing. EMNLP ranks second in the impact factor of computational linguistics publications on Google Scholar.