DeepBlue Technology Joins the Ranks of Top Innovators on the 2023 Hurun China Metaverse Potential Enterprises List
---
Recently, during the second "Hurun China Metaverse Summit" held in Nansha, Guangzhou, the Hurun Research Institute unveiled the "2023 Hurun China Metaverse Potential Enterprises List." This comprehensive list comprises the top 200 enterprises in China's metaverse sector, showcasing the most promising prospects for development. Notably, DeepBlue Technology successfully earned its place on this prestigious list.
The Hurun Research Institute holds a preeminent position as the most authoritative and influential organization for publishing such lists in China. It is renowned for its stringent standards, independent authority, and high credibility. Its influence extends significantly across the global business and technology innovation domains, making it one of the leading forces in the "list world," alongside Forbes rankings.
Hu Run, Chairman of Hurun Report and Chief Research Officer, emphasized that the "2023 Hurun China Metaverse Potential Enterprises List" encompasses both private and state-owned enterprises within China, headquartered in mainland China, Hong Kong, Macau, or Taiwan, with a valuation exceeding one billion US dollars.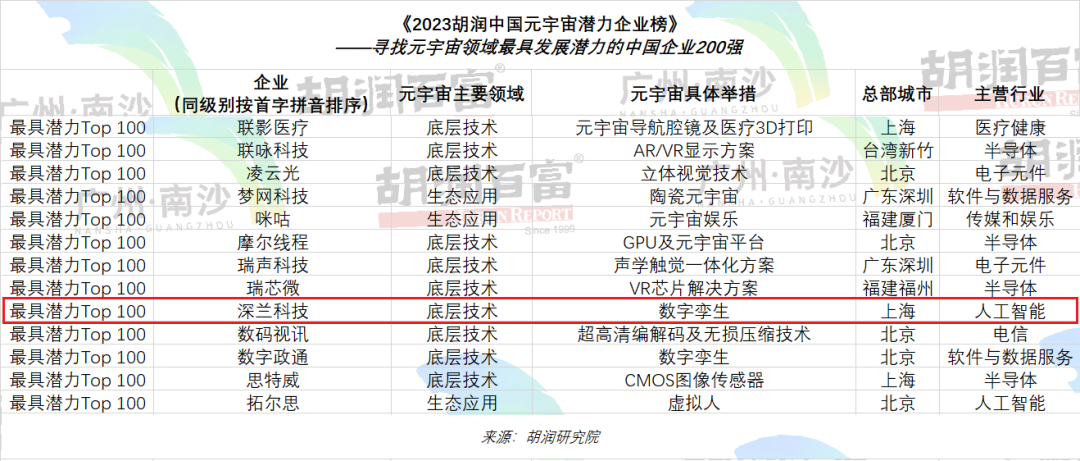 The enterprises featured in this edition cover five major industries within the metaverse: fundamental technologies, ecological applications, terminal industries, platform technologies, and network technologies. They represent the pinnacle of Chinese enterprises in these respective fields. Notably, the list includes a total of 18 artificial intelligence companies, with Shenzhen Blue Orchid Technology earning its spot due to exceptional achievements in AI digital twinning and other fundamental technologies.