DeepBlue Technology Cracks Urban Parking Difficulties with AI Empowering City Governance
---
As cities continue to develop and the quality of life improves, the number of vehicles in urban areas has been increasing year by year. Despite ongoing efforts to construct parking lots and facilities, problems such as parking difficulties, disorderly parking, and challenging management have persisted without effective solutions. Although parking may seem trivial, it profoundly affects the daily lives of city dwellers.
Recently, DeepBlue Technology won the bid for the "Smart Parking Service Platform based on AI-Predictive Parking Guidance Big Model" project. This success comes after DeepBlue Technology's silicon-based knowledge big models were previously applied in various vertical intelligent fields such as business, travel, and commerce. Now, it marks another successful application of their technology in the urban services domain.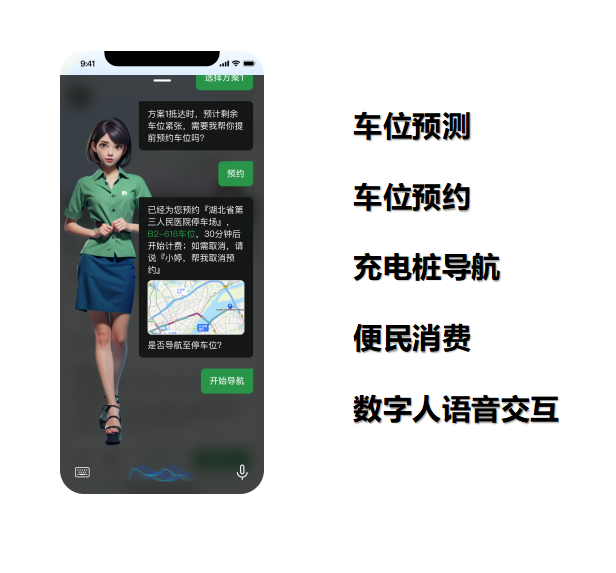 This project will utilize DeepBlue's self-developed silicon-based knowledge big models as its core technology, building upon the existing Silicon Brain SaaS platform. By combining large language models with innovative approaches, the project aims to create a cutting-edge city-level intelligent parking platform for the citizens of Wuhan. The primary goal is to address the increasingly severe problem of urban parking difficulties.
Once the platform is established, it will provide functions such as parking space availability query and intelligent recommendations, future departure parking space prediction, AI voice-guided parking, AI-powered virtual customer service, daily parking recommendations, and staggered parking solutions.
Specifically, the Smart Parking Service Platform will possess the following advantages and highlights:
Diverse Access: Supports various methods of integration for unified management.
Utilizing DeepBlue's self-developed technologies such as computer vision (CV), AI multimodal, and edge computing, the platform can integrate with parking lots through video, cloud access, and overall system integration. This ensures a tailored approach to the specific situations of each parking lot, solving the problem of disconnected parking lots and challenging overall integration.
Speedy Parking: Intelligent parking space recommendations for swift parking.
After vehicle owners use the platform, they can not only obtain parking data for their destination but also receive optimal parking spot recommendations based on the historical data of the parking lot, enabled by DeepBlue's silicon-based knowledge big model technology. Additionally, the platform can issue parking peak warnings, identify peak periods and hotspot areas for parking, helping vehicle owners save time, increase parking efficiency, and find parking spaces more rapidly in crowded cities.
Accurate Predictions: Providing precise parking space information based on demand.
Relying on DeepBlue's silicon-based knowledge big model, the platform employs machine learning and data analysis technologies to achieve accurate parking space predictions. By combining the big model with related tasks training and data mining intelligent recommendations, the platform offers accurate and intelligent parking lot recommendations, analyzing various parking-related data and user requirements in real-time to recommend the best parking options to vehicle owners.
Intelligent Interactions: AI voice and virtual assistants for real-time interaction.
Another highlight of the platform is AI voice-enabled travel planning. Vehicle owners can interact with the system through voice commands, informing it of their destination without repeatedly checking navigation systems. The system will then provide voice synthesis and navigation features to accurately guide the vehicle to the parking lot. During the journey, it will continuously update the availability of parking spaces near the destination, offering the most convenient and comprehensive parking solution. Additionally, the platform provides virtual assistant services, allowing vehicle owners to inquire about parking, charging, and parking fees through voice commands, receiving instant help and answers from the virtual assistant.
Comprehensive Services: Extended applications to meet all parking operation service needs.
Once the platform is established, it will facilitate the integration of parking big data with commercial big data, providing more space for data value and application expansion. The platform plans to offer functions combining parking scenarios with discounts on fuel, charging queries, car community services, utility bill payments, and other services, achieving seamless integration of online and offline operations and establishing a sustainable service for parking scenarios.