DeepBlue Technology's Panda New Energy Automobile and Leadtrust Auto Rentals Forge Strategic Partnership in Commercial Vehicle Sector
---
On August 8th, Panda New Energy Automobile (Shanghai) Co., Ltd., a subsidiary of DeepBlue Technology Group, and Henan Leadtrust Auto Rentals Co., Ltd. held a signing ceremony at the headquarters of DeepBlue Technology. Henan Leadtrust Auto Rentals, a subsidiary of Central Holdings Group, will annually purchase 10,000 units of commercial vehicles from Panda New Energy Automobile, marking a targeted procurement. The two parties will also engage in technical cooperation within the automotive aftermarket sector.
Henan Leadtrust Auto Rentals is a subsidiary under Central Holdings Group, focusing on the automotive aftermarket sector. The company aims to establish China's first commercial vehicle asset management and utilization platform, the first new energy vehicle after-sales service platform, and the first new energy ecological service operation platform. In his address, Chen Wei, Chairman of Central Holdings Group, expressed that Henan Leadtrust Auto Rentals has made remarkable progress over the past three years, both in terms of business volume and market share. This collaborative agreement is a powerful alliance, and he hopes that the order for 10,000 commercial vehicles can be fulfilled by the end of the year, laying a solid foundation for future cooperation between the two parties.
Panda New Energy Automobile is a subsidiary of Panda Automotive Industry Group under DeepBlue Technology, focusing on the development and technical services of intelligent new energy commercial vehicles. Chen Haibo, Founder and Chairman of DeepBlue Technology, stated in his speech that DeepBlue places great importance on the intelligence of large commercial vehicles. Since 2017, the company has embarked on the path of intelligent automobile manufacturing, introducing new energy self-driving mobile retail vehicles, new energy self-driving intelligent buses, and new energy self-driving sanitation vehicles. With this agreement, the aim is to combine the strengths of both parties and secure a prominent position in the domestic intelligent commercial vehicle market in the future.
According to the cooperation agreement, Panda New Energy Automobile will equip the commercial vehicles provided to Henan Leadtrust Auto Rentals with an intelligent system. This system, autonomously developed based on DeepBlue Technology's artificial intelligence technology, will efficiently collect various data during the operation of the commercial vehicles and perform analysis and processing. This will assist Henan Leadtrust Auto Rentals in enhancing the efficiency of commercial vehicle operation management and the scientific management of commercial vehicle assets.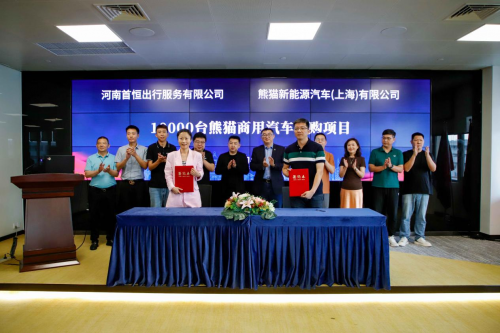 Industry experts view the collaboration between Panda New Energy Automobile and Henan Leadtrust Auto Rentals as a new attempt to empower the automotive industry with artificial intelligence technology. The former possesses advanced artificial intelligence technology, while the latter boasts a scaled commercial vehicle operation and service. The collaboration between the two parties holds a solid foundation and immense potential. Experts also believe that before the full commercialization of high-level autonomous driving commercial vehicles, targeting intelligent upgrades in the automotive aftermarket represents a practical choice for the commercial implementation of artificial intelligence technology.
Panda Automotive Industry Group is responsible for DeepBlue Technology's autonomous driving business segment, developing new energy intelligent vehicles with autonomous driving technology as the core. This includes sectors such as public transportation, rentals, sanitation, and logistics. It is understood that the group has developed intelligent retail vehicles, intelligent buses, intelligent sanitation vehicles, forming a comprehensive product matrix. Among them, Panda's intelligent buses are equipped with L4-level autonomous driving technology, holding multiple autonomous driving test licenses and commercial licenses. These vehicles are being tested and demonstrated on the roads of several cities including Shanghai, Shenzhen, and Wuhan.
Meanwhile, relying on self-developed autonomous driving technology, safety driving systems, and multiple intelligent systems, Panda Automotive Industry Group provides technical support to vehicle manufacturers, operators, and service providers. Against this backdrop, Panda New Energy Automobile and Henan Leadtrust Auto Rentals have found an opportunity for collaboration.