DeepBlue Technology clinched 11 major awards at the RANLP 2023 international competition
---
From September 4th to 8th, RANLP 2023 (Recent Advances in Natural Language Processing) was held in the famous seaside city of Varna, Bulgaria. This conference is one of the international conferences in the field of Natural Language Processing (NLP) and Computational Linguistics (CL), focusing on the latest research advancements and innovations in these fields, providing a platform for researchers worldwide to share and learn. DeepBlue Technology participated in multiple competition tasks at this conference and achieved a total of 6 first-place finishes, 3 second-place finishes, and 2 third-place finishes.

Most of the data for this competition came from the Dravidian language family, which has unique characteristics in grammar, phonology, and vocabulary, distinguishing it significantly from other Indian language families. Completing related competition tasks posed challenges due to the scarcity and low quality of available data.
The DeepBlue team, leveraging their rich competition experience, employed various model training techniques. They fine-tuned multiple pre-trained models as the foundation and then selected high-quality models for fusion. In the end, they achieved excellent results in the RANLP competition with 6 first-place finishes, 3 second-place finishes, and 2 third-place finishes.
DeepBlue Technology's participation in the competition resulted in recognitions in the following workshops:
DravidianLangTech (including tasks for insult detection, sentiment analysis, and fake news detection):
First place in Tamil-English insult detection.
Second place in Telugu-English insult detection.
First place in sentiment analysis for Tamil.
First place in sentiment analysis for Tulu.
First place in fake news detection.
LT-EDI (including tasks for detecting hate speech against LGBTQ+ individuals and depression detection):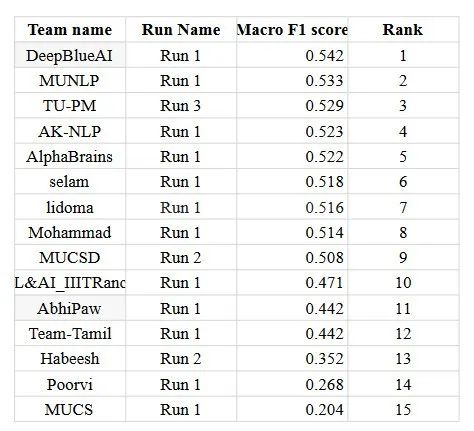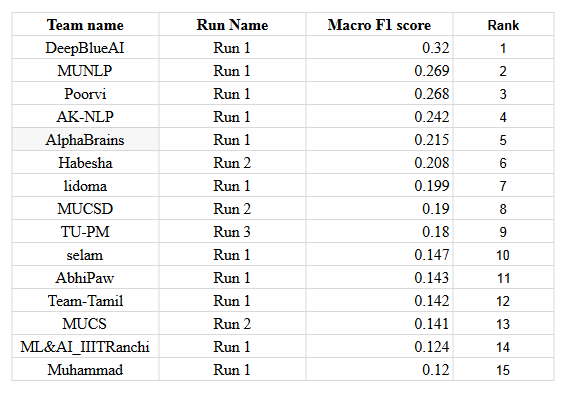 Second place in Tamil hate speech detection.
Third place in Malayalam hate speech detection.
First place in Tamil hate speech detection (Task B).
Third place in Malayalam hate speech detection (Task B).
Second place in depression detection.
In the CASE workshop, they secured first place in the causality classification subtask, which was based on a causal news corpus.
In today's digital age, social media and online platforms have become the primary means of communication. However, along with this, there has been an increase in abusive language, the spread of false information, and even malicious and offensive speech. The hosting of this RANLP competition is not only a technological competition but also a demonstration of social responsibility. It will contribute to creating a more friendly, authentic, and inclusive digital society, providing a safer, more positive, and rational online environment for emotional communication and expression, empowering the spiritual and cultural development of society as a whole.
DeepBlue Technology has long been dedicated to natural language processing technology, participating in top global conferences in the field, including ACL, EMNLP, and NAACL. They have competed alongside internationally renowned companies such as Intel, Google, and Microsoft and have won numerous world championships in related competition tasks. To date, they have accumulated more than 50 international championships in various AI fields, including natural language processing, computer vision, and data mining.