DeepBlue Technology Wins Million-Dollar Order for Intelligent Indoor Cleaning Robots in Spain
---
Recently, after multiple rounds of comprehensive comparisons based on evaluation criteria including key technology, scenario adaptability, task completion efficiency, and product usability, DeepBlue Technology stood out and won a million-dollar purchase order for intelligent indoor cleaning robots in Spain.
In the current economic situation, the labor market is extremely tight, especially in developed European countries. The cost of employing workers in the cleaning-related field has been increasing year by year. In the case of an increase in the demand for cleaning in office and public scenes, the supply is clearly insufficient.
Another problem is the environmental issue in the European cleaning industry. Traditional cleaning methods usually use chemical cleaning agents, which may have a negative impact on the environment. At the same time, using chemical cleaning agents also consumes a lot of energy and water resources. Therefore, the cleaning industry needs to find more environmentally friendly and sustainable cleaning methods. In addition, the cleaning industry also faces some technical challenges. Traditional cleaning methods require manual operation, which is inefficient and difficult to meet the demand for large-scale cleaning.
With the continuous development of artificial intelligence and robotics technology, the cleaning industry has also begun to apply these technologies, hoping to improve cleaning efficiency, reduce cleaning costs, and solve the problem of a shortage of cleaning workers. When powerful, bottom-up real needs drive industry change, it will inevitably drive rapid technological improvement and cost reduction, and also provide opportunities for technology companies that truly understand scenarios, design positively from demand, can be scaled for mass production, and can be practically applied. This has also made robots with excellent technology and performance the trend.
The overseas market director of DeepBlue Technology said, "The admission standards for the European market are high. Commercial cleaning robots need to be designed for both hardware structure and software algorithms to truly integrate into the workflow of cleaning staff and meet the cleaning needs of different scenarios. At the same time, it is also necessary to take into account various factors such as cleaning performance, ease of operation, and machine stability of cleaning products. Economical and practical robots with excellent performance are the trend. DeepBlue's 'Baby Orca' has passed the European CE (Conformité Européene, European Conformity) certification and meets the safety specifications of relevant products in the European market. The CE mark is the key to the European market, and only products that have obtained CE certification can enter the European market for sale."
What makes a truly qualified cleaning robot? From a product perspective, cleaning robots need to have multiple abilities, including intelligence, cleaning ability, safety, autonomous navigation, and convenient operation, in order to meet users' demands for cleaning robots.
In terms of intelligence and autonomous navigation, the DeepBlue Technology's intelligent indoor cleaning robot - Baby Orca, purchased by Spain, is equipped with a self-developed robot core control system (DeepBlue SLAM Core), which integrates indoor laser SLAM technology, 3D vision recognition technology, sensor technology, and other technologies, and has autonomous navigation ability. It can identify different environments, objects, and obstacles, and make corresponding decisions to ensure high efficiency and high quality cleaning.
In terms of cleaning ability, Baby Orca can clean different types of floors and surfaces, such as hard floors, tiles, marble, etc. It can also adjust the cleaning mode according to the floor type, room size, and different types of debris, achieving efficient cleaning effects. Baby Orca is equipped with a 60L large water tank to improve cleaning efficiency, with a cleaning efficiency of up to 2400 square meters per hour, 30% higher than competing machines on the market.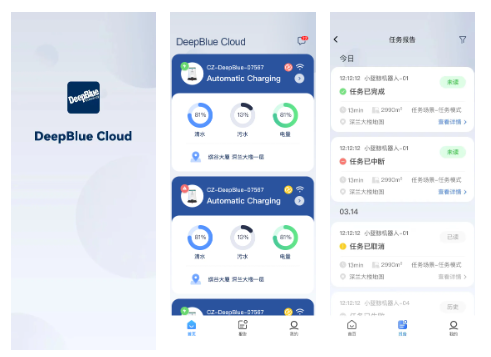 In terms of operation, the DeepBlue Cloud mobile app was recently launched. The DeepBlue Cloud mobile app is an intelligent linkage service tool in addition to the Baby Orca's body operation interface, using AIOT network and cloud service technology to link the device, cloud, and mobile phone. The user interface is simple and easy to use, supporting multiple languages, and important information such as device information, work status, task reports, and abnormal reminders can be viewed remotely anytime, anywhere. Combined with the existing "DeepBlue Intelligent Environment Management Cloud Platform", Baby Orca can achieve real-time monitoring, data statistics, online task management, user management, and other functions, meeting users' refined management needs.
In addition to innovative product design, DeepBlue Technology emphasizes the integration of hardware and software, building its own robot production base and self-developed core components, reducing manufacturing costs and improving industry economic benefits. In terms of the market, as of now, DeepBlue intelligent robot products have been applied in commercial complexes, office buildings and towers, factories, and supermarkets in Belgium, Norway, the United States, Spain, and other places.