DeepBlue Technology has once again passed three ISO international certifications, establishing top-notch global AI quality standards
---
Recently, the world's largest certification body, SGS, conducted its annual supervision audit of DeepBlue Technology for the year 2021. After two days of rigorous auditing, DeepBlue Technology successfully passed the audit with zero non-conformities, maintaining its ISO 9001 Quality Management System Certificate, ISO 14001 Environmental Management System Certificate, and ISO 45001 Occupational Health and Safety Management System Certificate.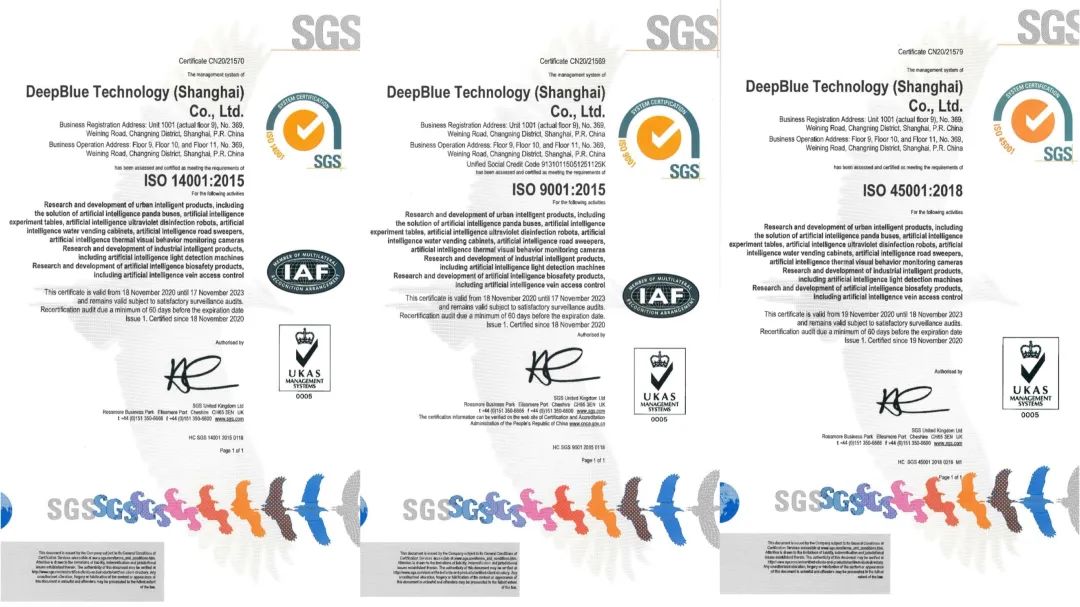 By achieving this authoritative certification once again, it signifies that DeepBlue Technology has consistently met the international standards for quality management systems, environmental management systems, and occupational health management systems. The company is at an advanced level in terms of product research and development quality, innovation capability, service quality, environmental management, and occupational health and safety.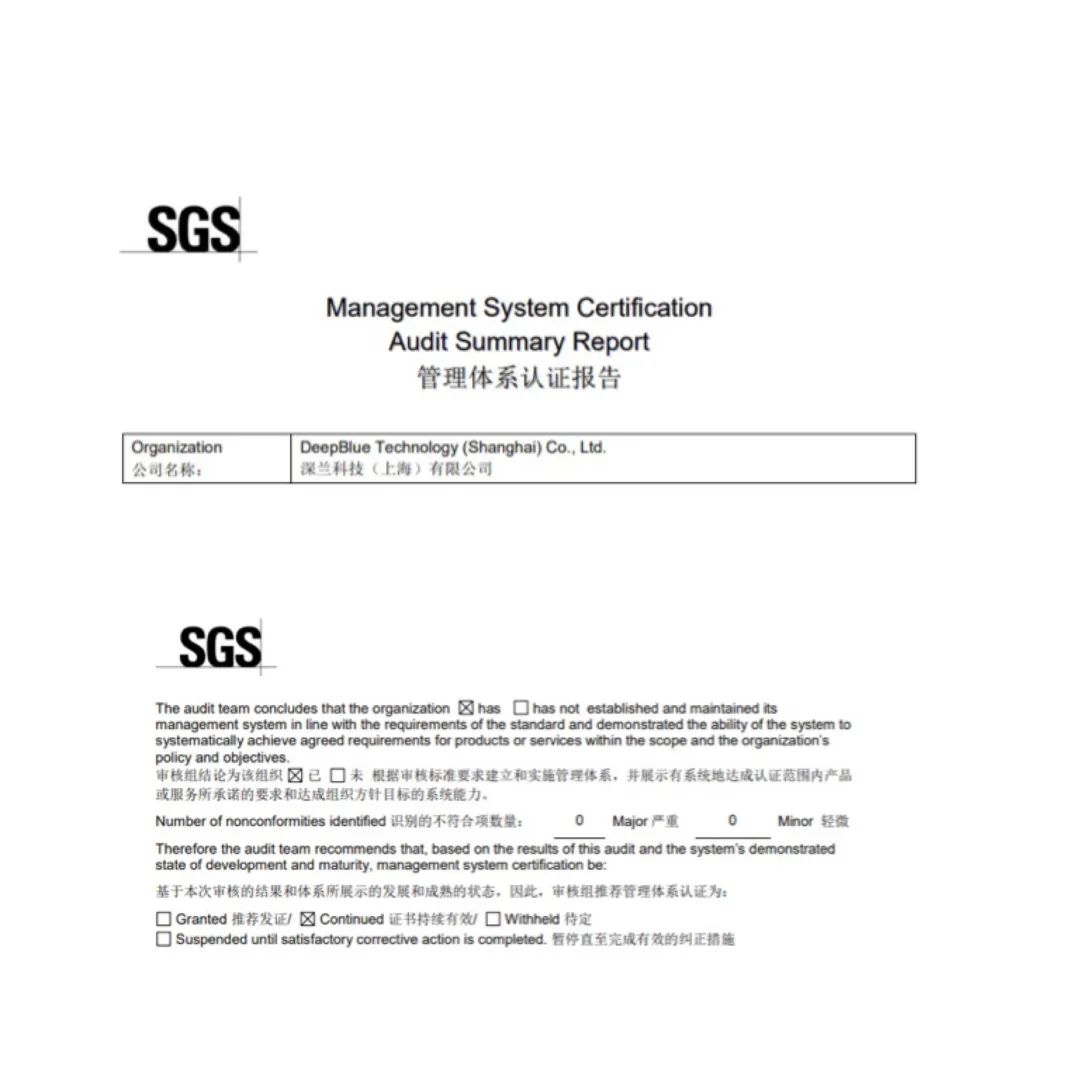 ISO 9001 is the most mature quality framework in the world, with over 750,000 organizations in 161 countries/regions currently using this framework. ISO 9001 certification measures a company's overall quality management system and determines its ability to provide high-level services with quality assurance to customers.
In 2020, DeepBlue Technology had already obtained the ISO 9001 Quality Management System Certificate through SGS's audit. In 2021, DeepBlue successfully passed the supervision audit with zero non-conformities once again. This certification will further enhance the quality of DeepBlue's AI products and services, providing strong support for better serving the needs of the people.
Over the years, DeepBlue Technology has consistently focused on strengthening the foundation of technology and products. The company has continuously invested in the development of DeepBlue Academy, gradually establishing a research system that includes institutes such as the AI Research Institute, Intelligent Vehicle Research Institute, Automation Research Institute, Scientific Computing Chip Research Institute, Life and AI Brain Research Institute, and Frontier Technology Research Institute. DeepBlue Technology's management philosophy also includes the motto "Creating excellence every day, never ceasing to advance." The company adheres to the pursuit of ultimate innovation and quality in its products, realizing the industrialization and scale of specialized and innovative AI, and ensuring the empowerment of industries, the economy, and society with technology during critical moments.
In February of this year, LG Group signed a procurement agreement with DeepBlue Technology for tens of thousands of advanced products such as intelligent robots. This signifies the high international recognition of DeepBlue's products and technology in the global market. Starting in April, after research and development initiation and small-scale trial production, DeepBlue has successfully delivered customized intelligent disinfection robots developed for LG Group and shipped them to the United States.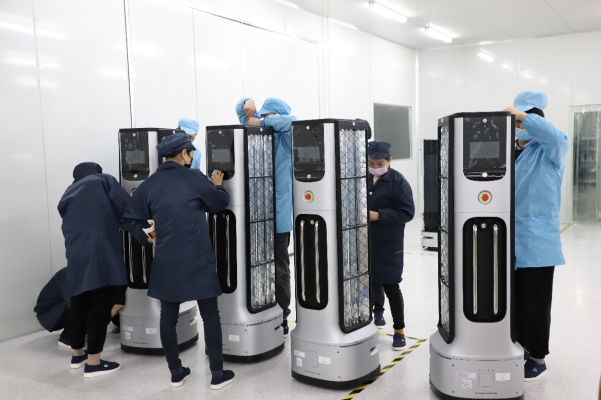 In the ISO 14001 Environmental Management System certification, DeepBlue Technology once again passed the supervision audit with zero non-conformities, indicating the company's active commitment to social responsibility and the establishment of its environmental management system. DeepBlue Technology earnestly studies and actively responds to the central government's major strategic deployments regarding carbon peaking and carbon neutrality. It actively echoes President Xi Jinping's call for "Lucid waters and lush mountains being invaluable assets" and has made protecting the environment its environmental policy while optimizing itself and empowering the entire industry.
DeepBlue Technology has always been based on the needs of the enterprise and society, resonating with the country's development. It promotes industrial revolution through solid basic research, strengthens the construction of green infrastructure, and promotes new energy, intelligent, and digital products. In particular, DeepBlue Technology has made contributions in the field of autonomous driving, assisting in the development of green and low-carbon transportation.
In 2018, DeepBlue Technology launched a 6-meter new energy autonomous driving mobile retail vehicle and a 12-meter new energy autonomous driving intelligent bus. In January 2019, they introduced the Panda intelligent bus, which went online and operated in multiple cities. In August 2019, DeepBlue Technology introduced a team of hydrogen energy experts and launched the Panda logistics vehicle for urban delivery scenarios, entering the field of hydrogen energy autonomous driving.
In 2020, the Panda intelligent bus passed the autonomous driving test in Shenzhen in June and started commercial operation on the Pingshan High-speed Rail Station line. In July, it started operating in Wuhan, serving the CBD route in downtown Wuhan, becoming the first commercial operating route in China.
In 2021, DeepBlue Technology joined forces with E-Town Group, which holds 53 ride-hailing licenses, to launch the DeepBlue Panda taxi. This taxi incorporates DeepBlue's autonomous driving technology, active intervention safety driving system, whole-vehicle energy control system based on external environmental perception, and DeepVision intelligent cabin. It aims to empower the ride-hailing sector and contribute China's technological strength to sustainable development.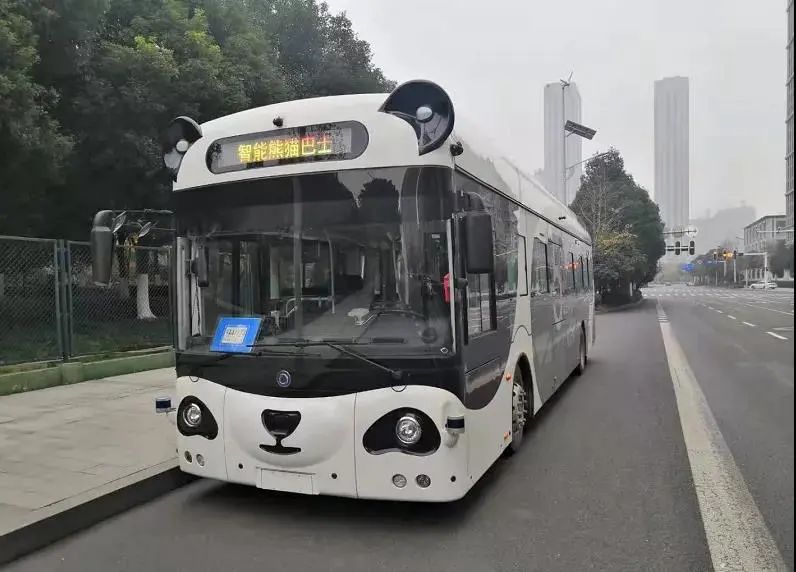 The ISO 9001 Quality Management System Certification, ISO 14001 Environmental Management System Certification, and ISO 45001 Occupational Health and Safety Management System Certification are international standards for enterprise management established by the International Organization for Standardization (ISO). They are currently the most comprehensive and systematic international standards for "quality, environment, and occupational health and safety."
Certification of these three systems is a global trend and a conscious requirement for companies to participate in international trade and improve their competitiveness. It is also a manifestation of a company's commitment to law-abiding and responsible behavior. Establishing and improving the three standard systems can make a company's quality, environmental protection, and safety and health management more systematic and standardized, solidify its management foundation, and provide guarantees for its international development.
DeepBlue Technology has always been committed to continuously improving product quality, optimizing corporate management systems, and exploring more scientific paths for market-oriented operations. These efforts have enabled DeepBlue Technology to successfully pass the ISO "three system certification." This month, they will also undergo the annual audit for the ISO 27001 Information Security Management System, continuing to develop steadily under strict international standards.
In the future, DeepBlue Technology will continue to uphold the mission of "artificial intelligence serving the people's livelihood," dedicating itself to basic research and application development in artificial intelligence. They aim to create competitive and high-quality artificial intelligence products and services, empower traditional industries with technological transformation, and continue to leverage China's capabilities as a manufacturing powerhouse.