DeepBlue Technology Unveils AI-Powered Lawn Mowing Robot at GreenTech Horticulture Exhibition, Revolutionizing Lawn Care in Europe and North America
---
The international horticultural trade fair - GreenTech Horticulture Exhibition in Amsterdam, the Netherlands, was held from June 13th to 15th at the RAI International Exhibition and Convention Center. As one of the most authoritative and professional horticultural technology exhibitions internationally, it attracted tens of thousands of professionals from over 100 countries. DeepBlue Technology, along with its flagship AI product, the lawn mowing robot, made an appearance at the exhibition, attracting numerous visitors from the Netherlands, the United Kingdom, Germany, the United States, and other countries, with hundreds of potential customers coming for inquiries.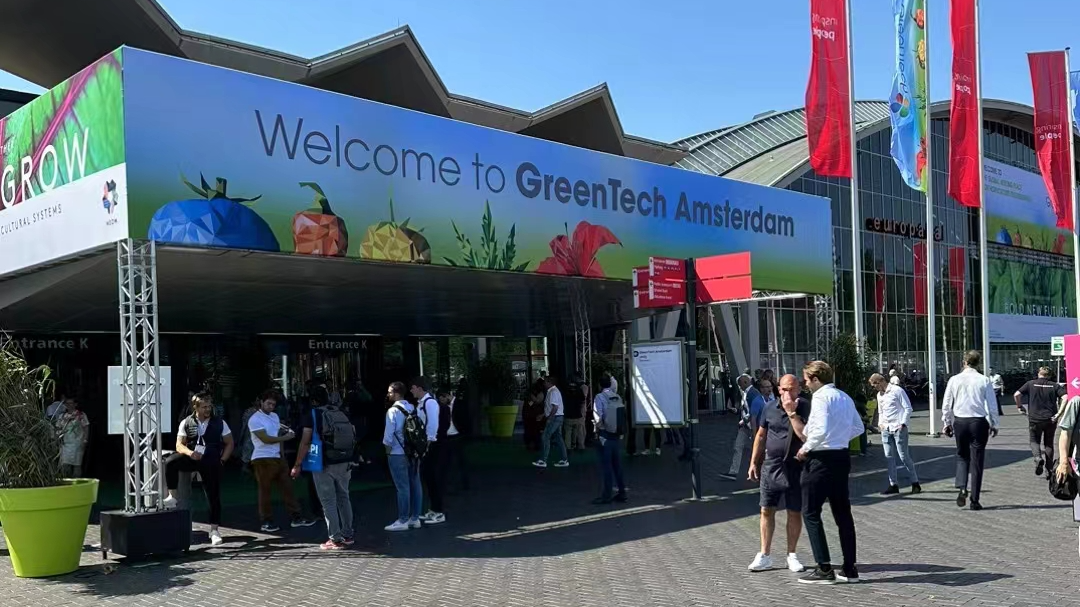 Unlike in China, where lawn mowing is not as common, "lawn care" is a long-standing essential need for many households overseas, especially in Europe and North America, due to the influence of "lawn culture."
According to statistics, there are a total of 250 million private lawns and gardens worldwide, with 80 million in various European countries and 100 million concentrated in the United States. Lawn care is required for eight months of the year, and on average, households need to trim their lawns 2-3 times per month. For a long time, lawn mowing has relied on traditional tools such as gasoline-powered mowers and manual mowers, which usually take several hours to complete and require considerable effort. In addition, the high labor costs in Europe and America have naturally created a demand for robots.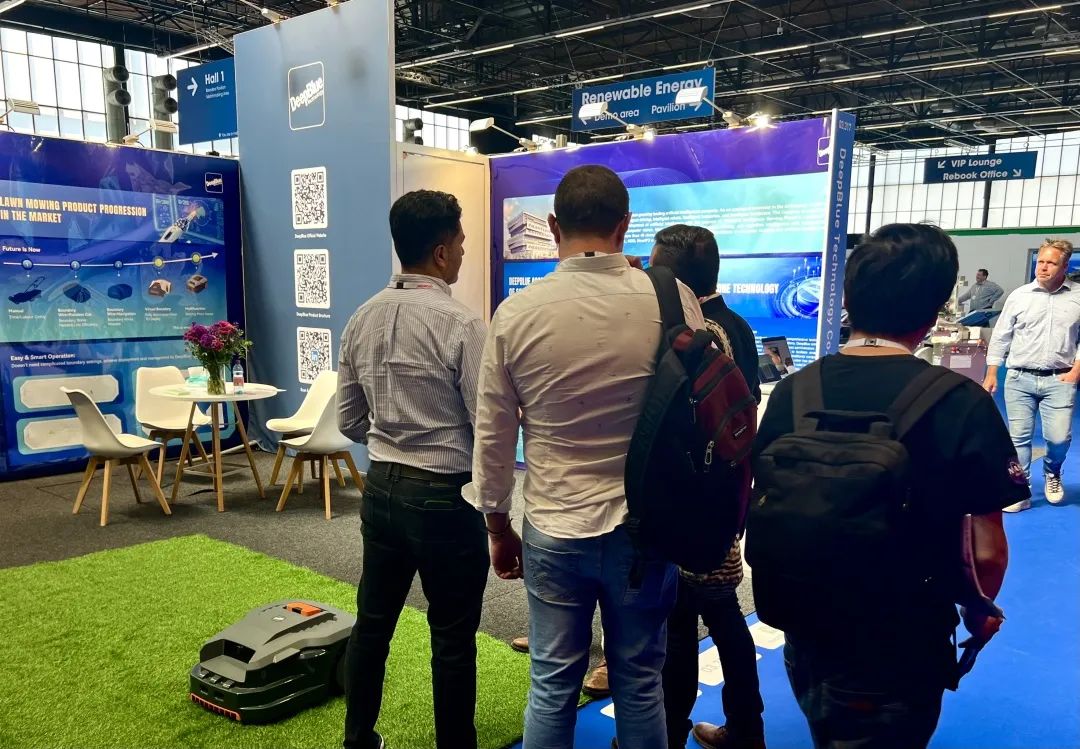 DeepBlue Technology showcased its new generation of AI-powered lawn mowing robots at the exhibition, integrating the Deepblue Multimodal Navigation System (DMNS), independently developed by DeepBlue. This system combines various multimodal perception and positioning technologies such as computer vision (CV), real-time kinematic (RTK), inertial navigation system (INS), and visual-inertial odometry (VIO). It can achieve high-precision autonomous positioning and navigation in complex outdoor garden environments, providing a range of intelligent lawn management functions such as autonomous path planning, automatic mowing, automatic charging, automatic task scheduling, and lawn care. It effectively frees up half a day of users' weekends and makes lawn maintenance easy and enjoyable.
In the past, there have been various technical approaches for lawn mowing robots, such as wire-based solutions, UWB, RTK, laser SLAM, and visual SLAM. Based on a deep understanding of the scene, DeepBlue Technology has innovatively designed and developed multimodal perception, positioning, and navigation algorithms specifically for mowing scenarios to adapt to different lawn environments. The robot does not require pre-buried boundary wires and can achieve centimeter-level precision positioning. It uses vision and algorithms to recognize and avoid obstacles and autonomously plan paths, making it suitable for different types of lawns.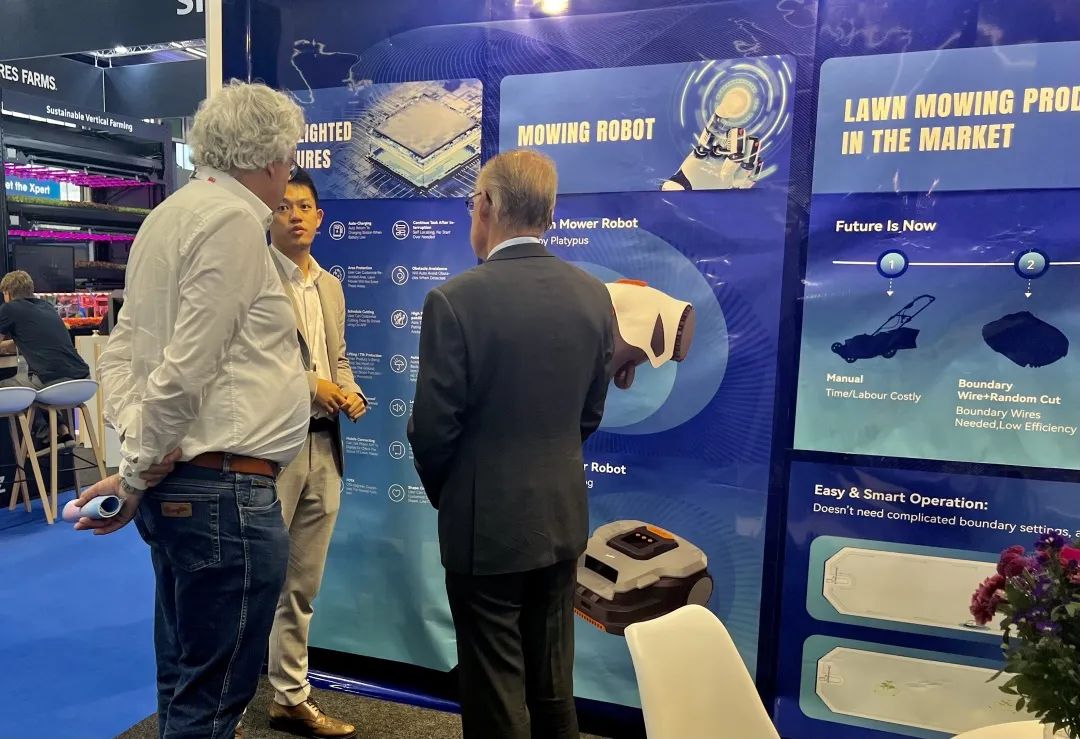 "The lawn scenes in Europe and America are diverse and unique, and different lawn scenes require corresponding solutions. It is not feasible to use a single set of positioning and navigation technology," said the product manager of DeepBlue Technology. "The principle of DeepBlue's product development is to translate technology into tools that can effectively serve products and solve users' problems in different scenarios. Therefore, in the design of lawn mowing robots, we have incorporated several highlights: first, visual navigation assistance technology, which allows the product to work well in complex terrains, avoiding blind spots caused by relying solely on the GNSS system and preventing the device from malfunctioning. Second, dynamic perception capability, which can perceive the edges of the grass dynamically, preventing the device from leaving the lawn unexpectedly during operation and improving the trimming performance, thereby enhancing mowing safety."
At the exhibition, a customer from the Netherlands expressed that cleaning up overgrown weeds in European gardens and lawns near their homes is troublesome, and the lawn mowing process is tedious, while manual labor costs are high. After consulting, exchanging information, and witnessing product demonstrations, I learned that DeepBlue has accumulated rich experience in visual navigation algorithm solutions. By applying autonomous driving technology to lawn mowing robots, using pure vision and autonomous driving technology, the process of weeding becomes easy and efficient, and the smoothness of the lawn is guaranteed. It is highly attractive to European users.