Exquisite Appearance from DeepBlue Technology in INTERCLEAN 2022
---
|DeepBlue's International Debut in 2022
On May 13, 2022, the four-day INTERCLEAN AMSTERDAM in the Netherlands has come to a perfect conclusion. Team DeepBlue made a stunning appearance on the international stage with three of its highlighted products and received global attention and praise.
INTERCLEAN Amsterdam is one of the largest professional cleaning communities in the world and is unsurpassed in its role as an international business networking platform for the cleaning and hygiene industry. The world's leading cleaning and hygiene manufacturers and professionals will attend. There are approximately 700 corporates that are exhibiting and over 35,000 professional buyers present this year.
As a leading artificial intelligence enterprise for years, Team DeepBlue was also invited to participate in this industry event and showcased several highlighted products in RAI Amsterdam. This has been an excellent opportunity to show the world DeepBlue's latest R&D breakthroughs, the well-polished AI-powered products, as well as the determination to bring about progress and innovations in the post-epidemic era.
Next, let us zoom in on the grand occasion and the wonderful moments on site:
|Highlights On-site
1. Three main products were gathered at INTERCLEAN; the first official appearance of the latest product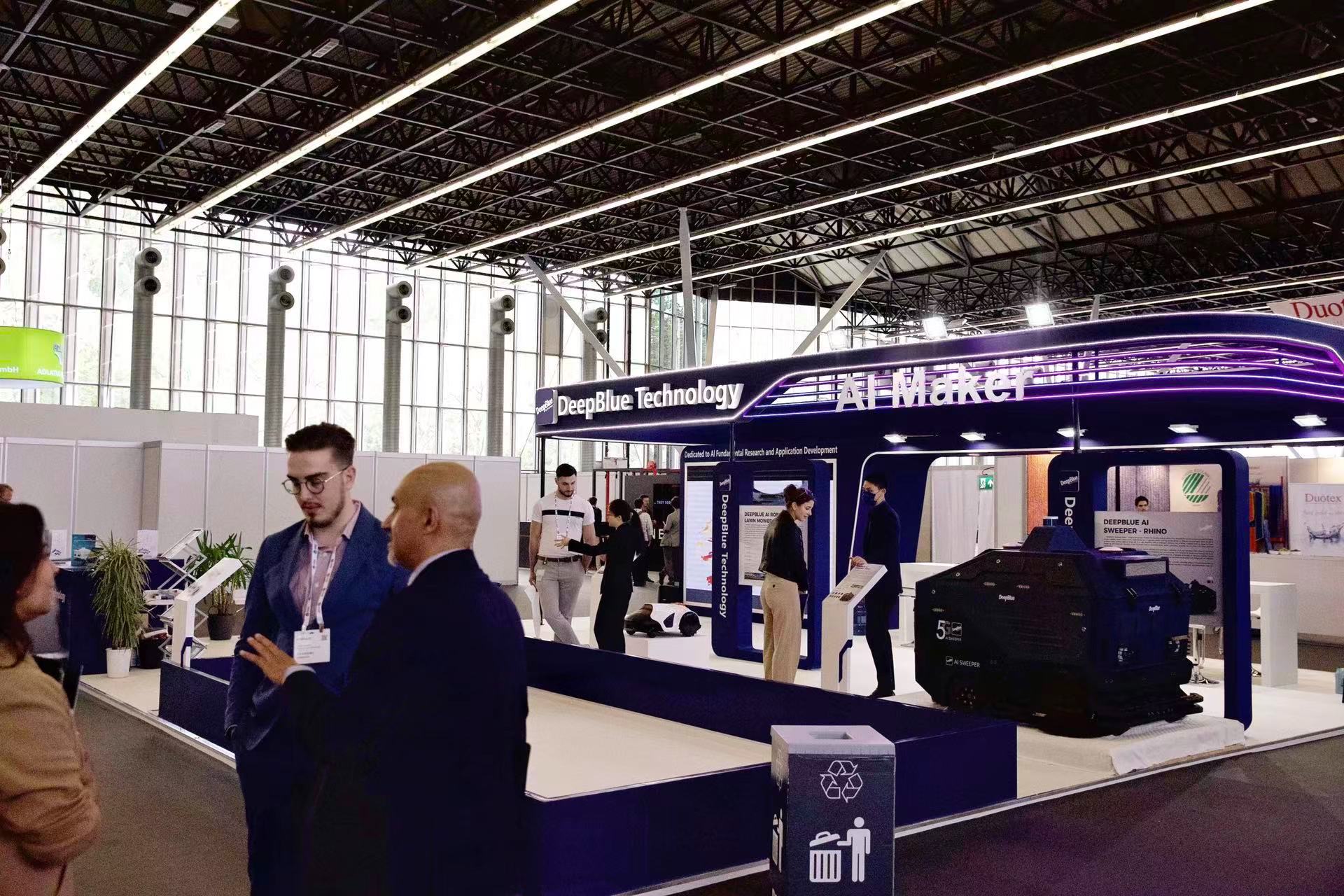 DeepBlue AI Indoor Floor Scrubber – Baby Orca is designed for large-area applications of hard floor textures (ceramic, marble, epoxy flooring, etc.) with multiple cleaning modes. Baby Orca is equipped with a fully upgraded 60L water tank and 100Ah battery, which supports up to 6 working hours for a single task. Ergonomically designed for easy operation and handling. The device is also equipped with self-developed SLAM technology that allows Baby Orca to adapt to various application scenarios. The upgraded One-button Mode can greatly save users' time and effort tremendously.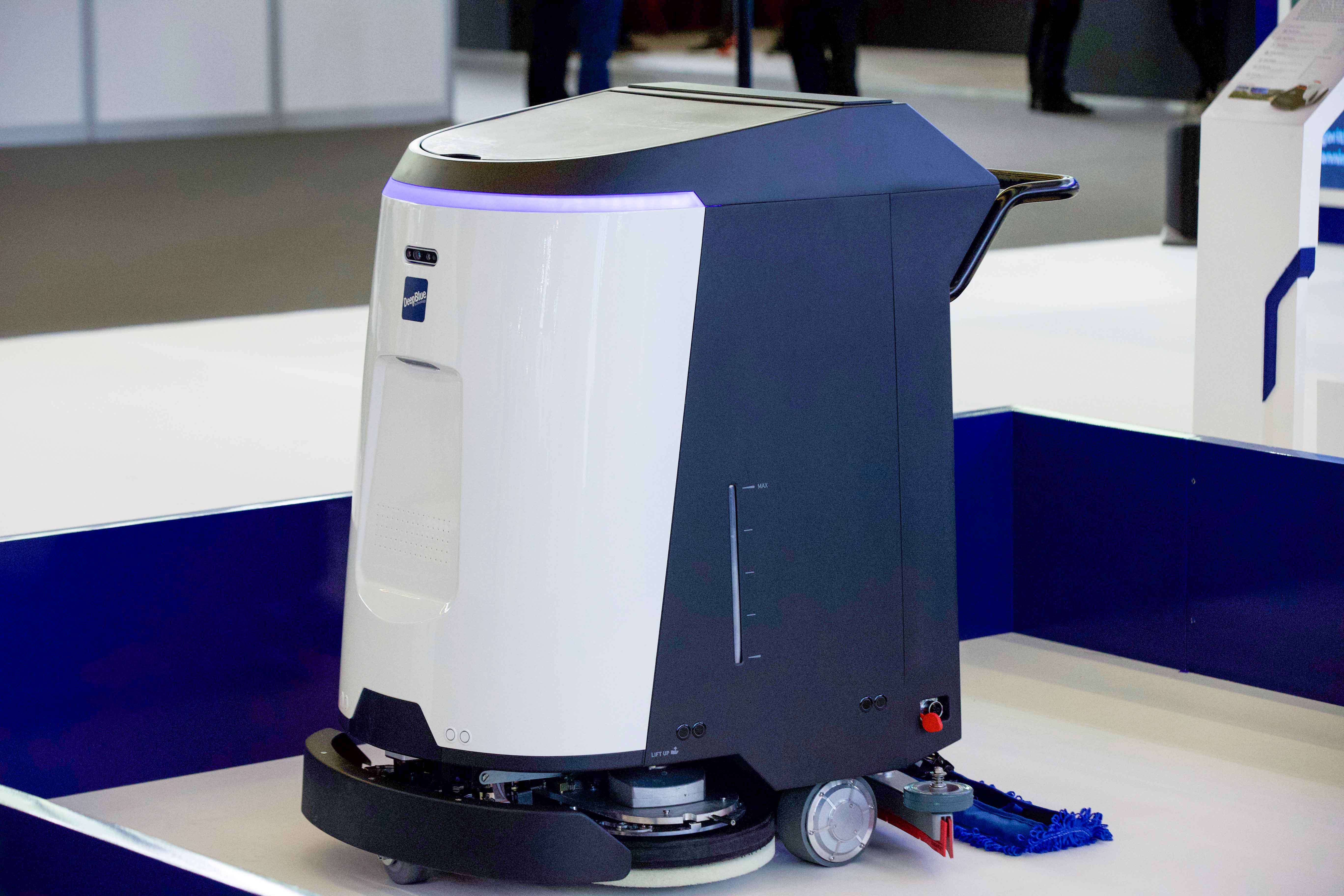 DeepBlue AI Outdoor Sweeper - Rhino is the perfect solution for cleaning outdoor areas. It is designed for various ground textures including cement, asphalt, epoxy, rubber, brick, rough stone, etc. It supports several working modes based on different requirements, such as patrol cleaning mode, cycling cleaning mode, etc. It is also equipped with an intelligent network that provides features such as edge-to-edge sweeping, and automatic charging. It can be widely used in industrial parks, parks, campuses, squares, tourist sites, and other outdoor applications.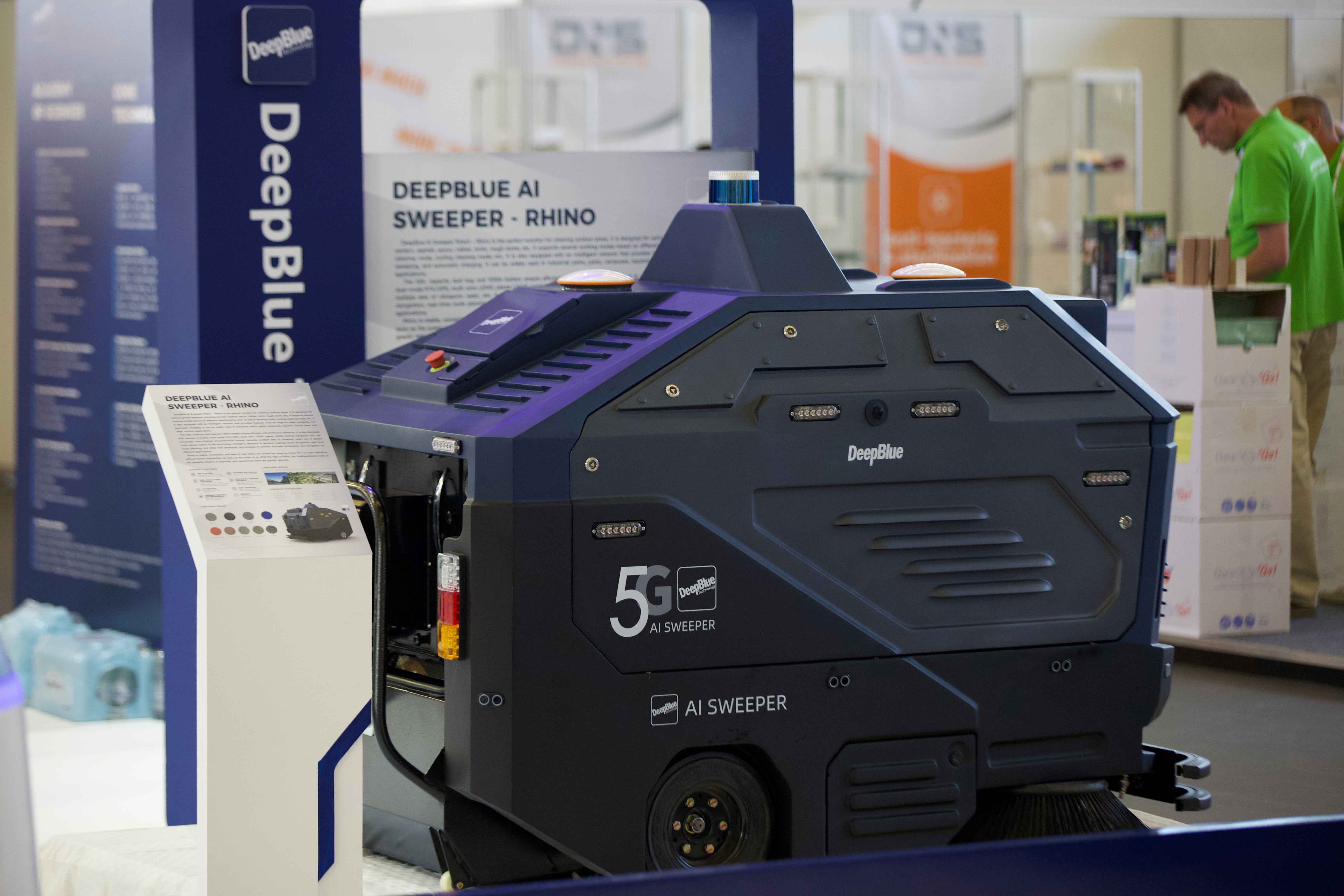 During the exhibition, a new product caught everyone by surprise – DeepBlue AI Lawn Mower. The AI Lawn Mower series launched by DeepBlue has achieved innovation in many technical fields. It integrates the independently developed DeepBlue Multimodal Navigation System (DMNS) and multi-modal perception positioning such as CV, RTK, INS, and VIO technology to achieve high-precision autonomous positioning and navigation capabilities in complex environments in outdoor gardens. The product is capable of performing a series of intelligent lawn management features such as autonomous path planning, automatic mowing, automatic charging, automatic task scheduling, and lawn care. The product is suitable for lawn trimming and maintenance in family courtyards, villas, hotels, football fields, and large and medium-sized public green spaces.
The debut of the AI Lawn Mower quickly became the focus of the audience with its exquisite appearance and outstanding features. The exhibitors from various countries have developed a strong interest in understanding more about the performance and capabilities of the product. Some of the exhibitors said that the sunshine time in Europe is long and the grass grows rapidly. Thus, the labor for lawn care is not only costly but also inefficient, making it difficult for their lawns and gardens to maintain a perfect condition at all times. DeepBlue AI Lawn Mower can be the perfect solution to their problems making sure that the lawn is always in the best condition. It aims to relieve families around the world from the difficulties, safety issues, and time and labor costs of mowing and provides them with ease of mind.
2. Huge Gathering for Industry Professionals
During this exhibition, the products of DeepBlue received extensive attention from the media, exhibitors, and attendees. At booth 07.220, DeepBlue International Sales Manager, Robbie Lo introduced the solutions for various application scenarios. During the product demonstration, the exhibitors were full of praise for the practical functions of DeepBlue's products, such as autonomous safe operation, intelligent obstacle avoidance, and cleaning efficiency.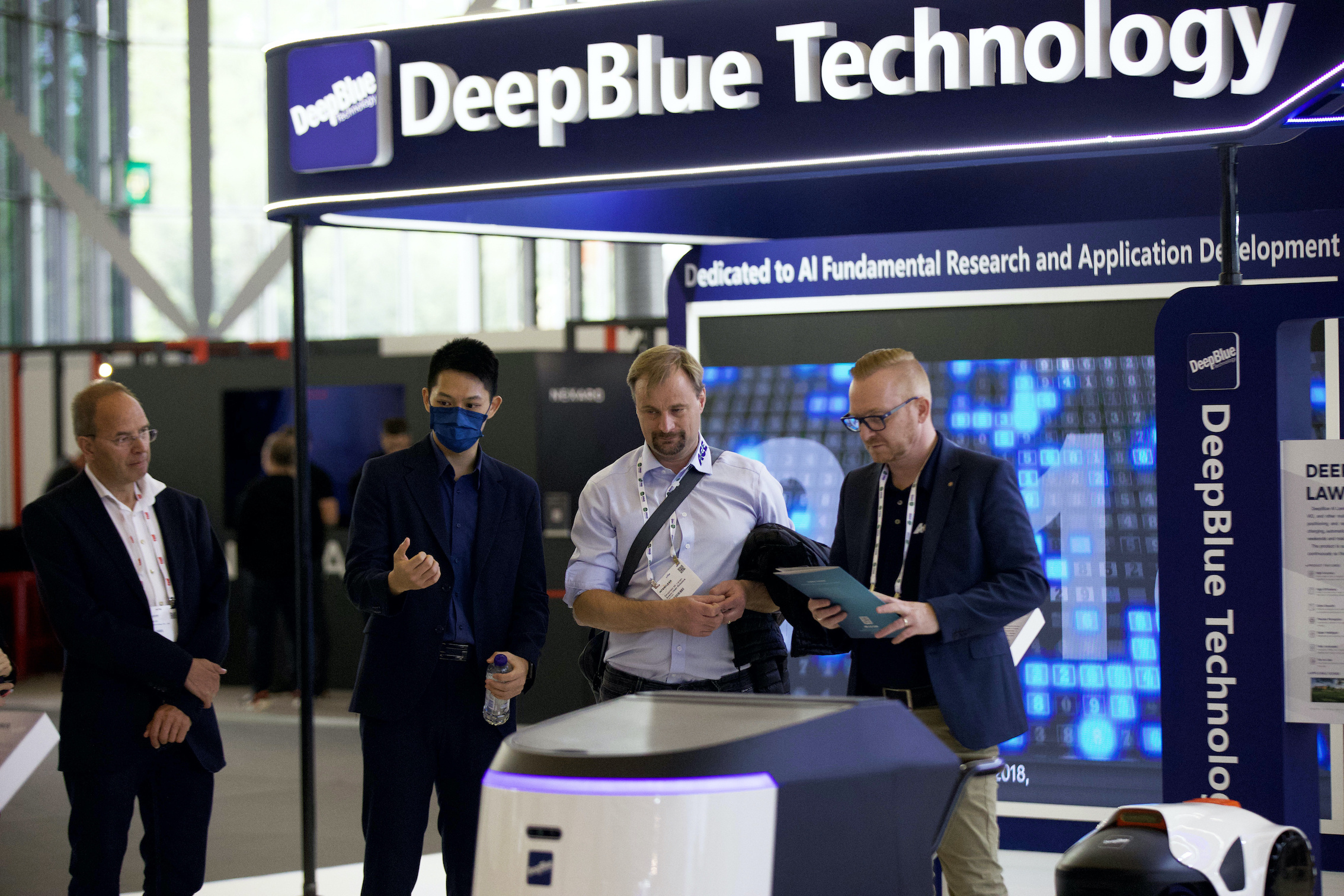 The representative of Team DeepBlue presented the product to everyone on the spot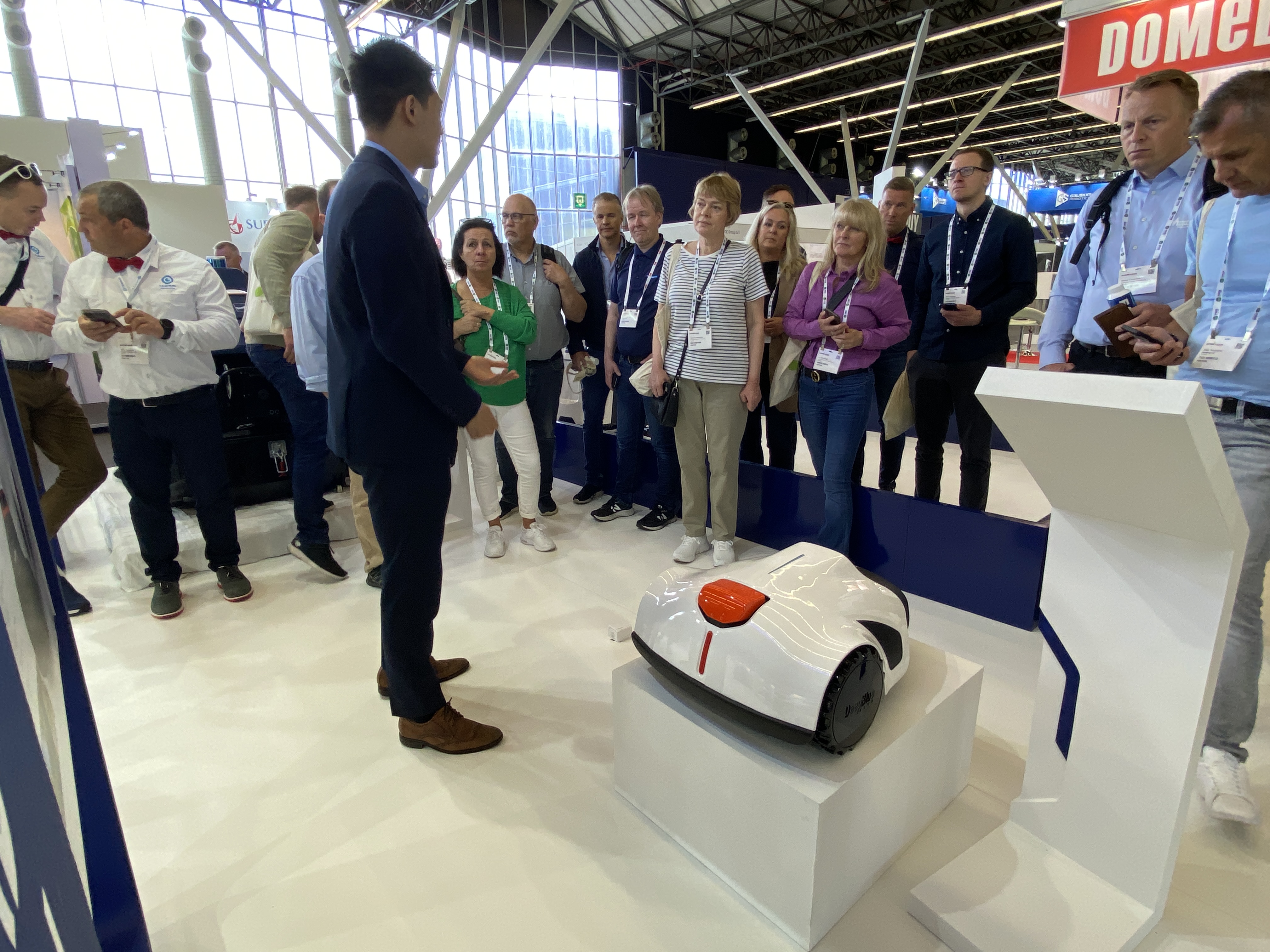 First Appearance of the AI Lawn Mower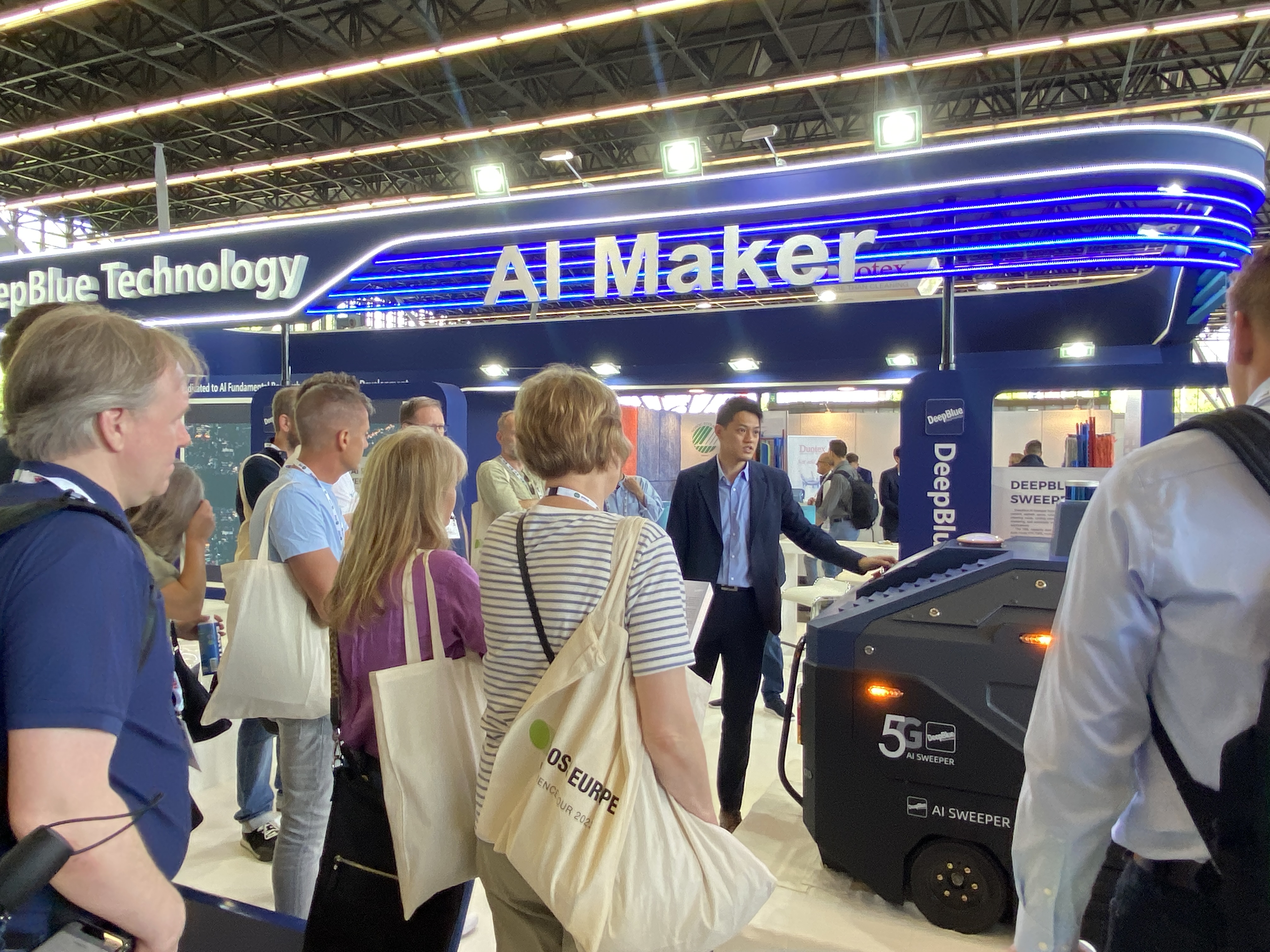 Presentation of Rhino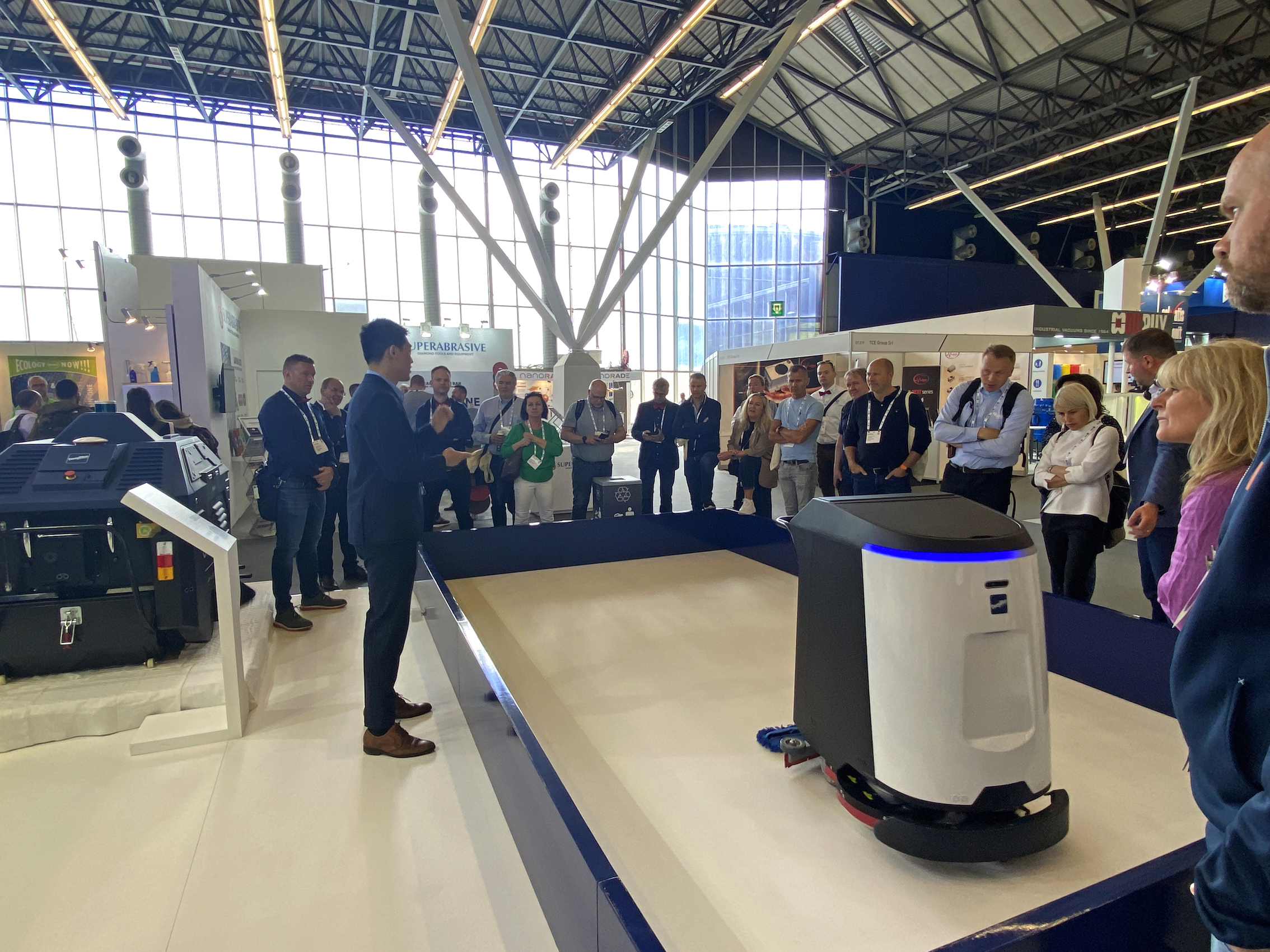 Presentation of Baby Orca
3. On-site Interview with RAI
The organizer of the event, RAI also conducted one-on-one interviews with the most representative companies in the exhibition. The organizer expressed gratitude to Team DeepBlue for being able to overcome all difficulties and come to the Netherlands to participate in the exhibition and affirmation for the professionalism and product capabilities of Team DeepBlue.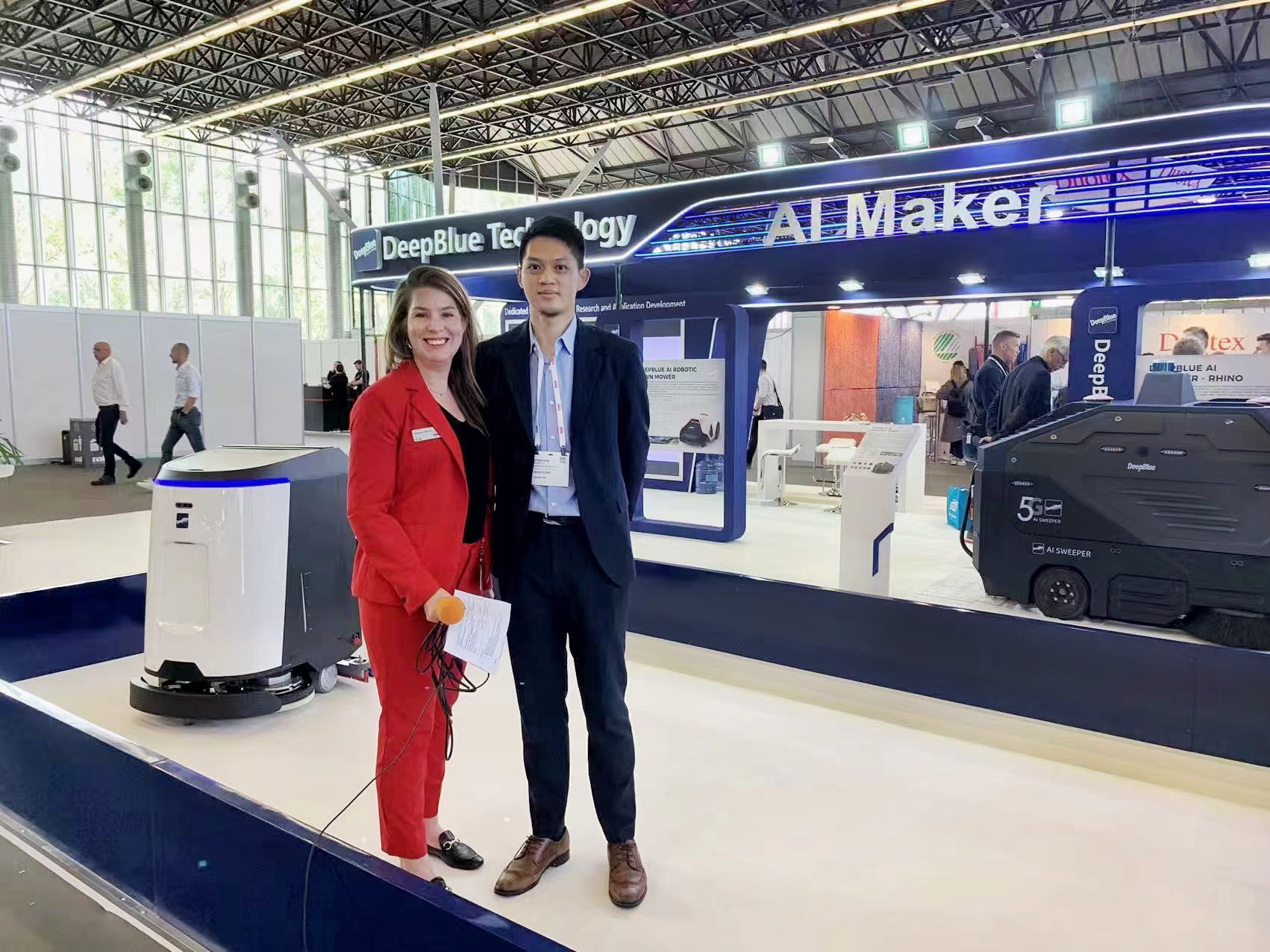 Interview between RAI and Robbie Lo
4. Perfect Ending
This exhibition is not only an opportunity to showcase what DeepBlue can do for the world but also a platform to promote the exchange and cooperation of cutting-edge technologies. DeepBlue takes pride in its innovation and is committed to using AI technology to deeply influence the cleaning industry. It has applied for and authorized nearly 100 invention patents in this field, providing complete and efficient solutions for automated cleaning. DeepBlue's high-efficiency and high-performance intelligent cleaning robots have been implemented in many shopping malls, office buildings, squares, parks, and other application scenarios.
In the future, DeepBlue will continue to serve humanity with AI, join hands with more excellent partners around the world, actively share advantageous resources, expand the international network, and create better lives for mankind.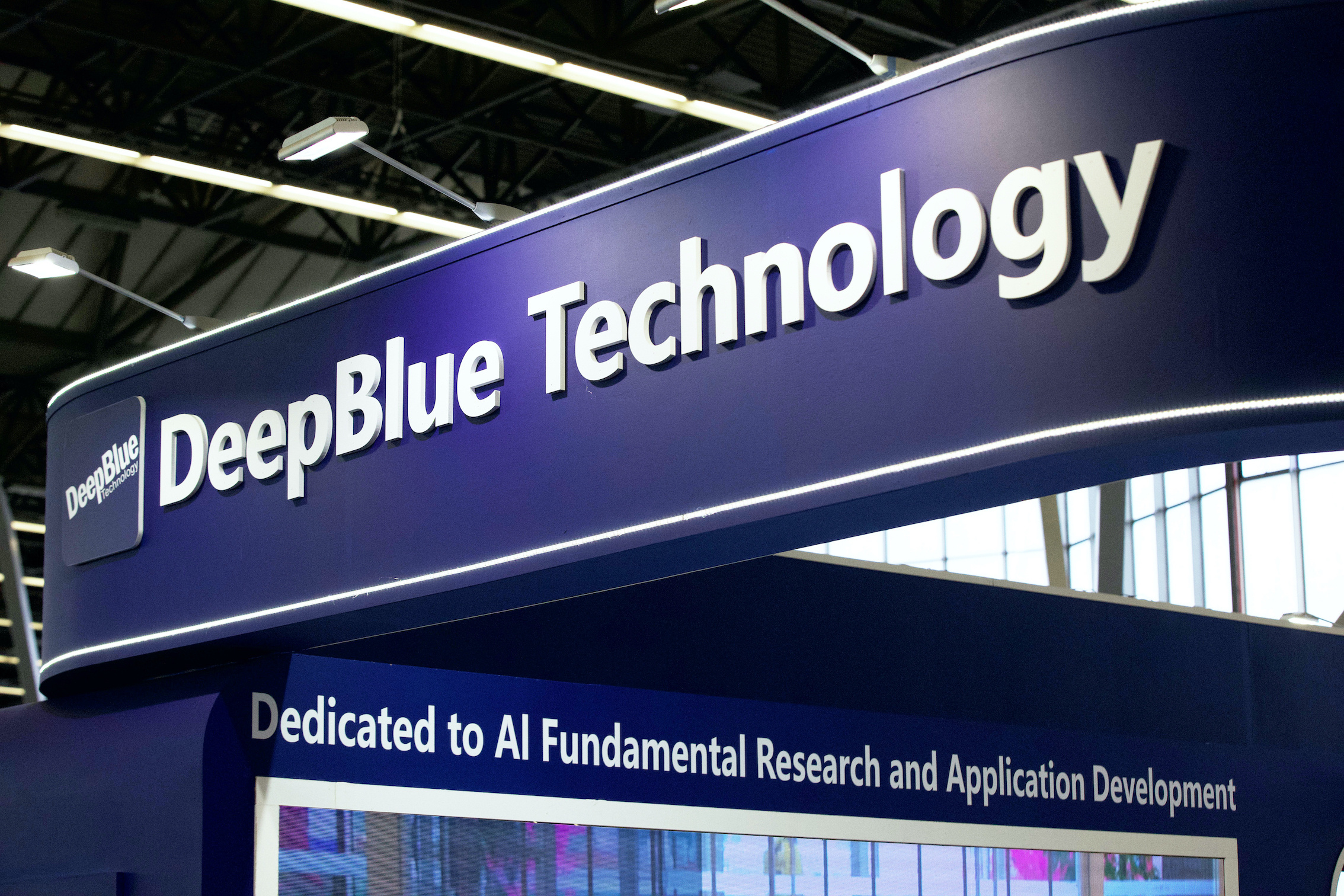 INTERCLEAN AMSTERDAM,DeepBlue,RAI